Moshe Shaul Deeb Laniado - חכם משה בן שאול דיב לניאדו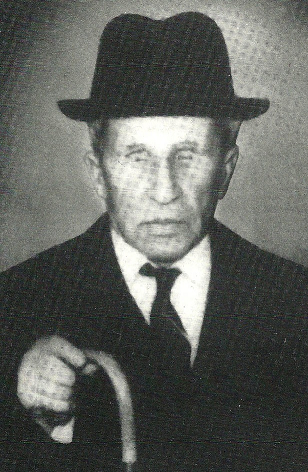 Biography
Born in Aleppo in ~1892. From his mother's side, he is the grandson of H Moshe Harari. When he was age 5, he had an eye sickness and he lost his vision. He continued to learn in the Talmud Torah of H Ezra Shayo with the remainder of his peers despite lack of eyesight.
He became an expert in many subjects, such as the Mishnah and Rabbinic Responsa. He took learning Torah very seriously. Many people approached him to ask advice.
He was in Aleppo in 1948 when there were pogroms and burnings of the Great Synagogue and other holy locations.
In addition to his Torah knowledge, he had a beautiful voice and became an expert in more than a thousand pizmonim that he knew all by heart.
In 1962, he moved to Tel Aviv. It was there where he went to the Beit Midrash "Hen Mordekhai" to listen to the words of Torah from the Great Hakham Moshe Tawil.
He recorded the pizmonim below during those years.
In 1967, he became very ill for more than a year and a half.
The name of his children are: Shaul, Shimon, Zehava, Yosef, Shelomo, Sara, Albert, Isaac, David, Rachel, Yaaqob.
He passed away in Tishri of 5729 (1968) and is buried in Holon.
May his memory be blessed forever.
Index of Recordings
| Section | Pizmon | Page | Song | Commentary | Recordings | Application |
| --- | --- | --- | --- | --- | --- | --- |
| Petihot | 96 | 103 | רבים רדפוני | | Moshe Diib Laniado | |
| Rast | 127 | 117 | חי הזן לכל תמיד | Raphael Tabbush In honor of the wedding of Tabbush's student, Hayyim Tawil. | Moshe Diib Laniado | קדיש |
| Rast | 131 | 119 | יה תאיר לאורי | Raphael Tabbush Dor: yah talah il sa'adi. | Moshe Diib Laniado | |
| Rast | 134 | 121 | אל רם ברך | | Moshe Diib Laniado | שועת עניים |
| Ajam | 231 | 181 | שמך יתרומם | Raphael Tabbush Hamaoui Manuscript | Moshe Diib Laniado | ממצרים |
| Bayat | 300 | 238 | יחיד רם | Raphael Tabbush First song at all Sebets. The initials at the beginning of each stanza form the acrostic 'Yosef'. Hamaoui Manuscript Tabbush Manuscript | Moshe Diib Laniado | פזמון |
| Bayat | 307 | 241 | עז ומחית | Hamaoui Manuscript Tabbush Manuscript | Moshe Diib Laniado | קדיש |
| Bayat | 310 | 242 | חנני מלך | Habib Tabbush Manuscript | Moshe Diib Laniado | |
| Bayat | 312 | 243 | אויבי הכני | Arabic is "Hebbi Da'ani" sung by 'ABD EL HAI HILMI. | Moshe Diib Laniado | |
| Bayat | 318 | 245a | אל גאל עם נזנח | Arabic: El kamal fel maleh | Moshe Diib Laniado | |
| Bayat | 321 | 247 | שא לזנוחך | | Moshe Diib Laniado | |
| Saba | 488 | 402 | רחום דל דאגי מני | Raphael Tabbush | Moshe Diib Laniado | כתר |
| Awj-Oj | 514 | 430 | אל פקוד עמך | Raphael Tabbush This pizmon (OJ, page 430), "Lord, Take Note of Your Nation," is composed based on the Arabic melody called "El Füad Habaq." The Hebrew song is found in the Old "Shir Ushbaha" (page 49), and is most likely written by H Raphael Antebi Tabbush. This melody is popularly applied to Naqdishakh on weeks of Maqam SIGAH. This pizmon is actually a solemn prayer to God from the author, Tabbush; written in first person. The author requests for God to single out and notice His nation, gather them to His house, and to shelter those that are God-fearing. He should have mercy on the poor people, and elevate their paths to be smoother. God should be good to them because they rely on Him and call out to Him. The author continues and petitions God for his own personal welfare. Paraphrasing his words, he says that at all times my heart has high emotions for You (God). God carries my wrongdoings and should have mercy on me and help me. God should watch over me, at all times I pray; and should sustain me forever. | Moshe Diib Laniado | נקדישך |
| | 2653 | | אל אתה חדש לי | Maqam Hijaz Shir Ushbaha, 1921 | Moshe Diib Laniado | |
| | 5565 | | יה הושיע ידי | Maqam Bayat Old SU. | Moshe Diib Laniado | |
| | 5566 | | אותי יה אבי לא תרחק | Maqam Sigah Old SU. | Moshe Diib Laniado | |
| | 5567 | | רצני דודי | Maqam Sigah Old SU. | Moshe Diib Laniado | |