By Sam Catton
On this day the world was created.
On this awesome day, the Almighty King judges all of mankind. Every human being stands in judgement, as his good deeds and his misdeeds are reviewed.
Much preparation is done by us, beginning with the annulment of vows forty days earlier, and with our reciting of the Selihot during the entire month of Elul. Each person must make peace with his fellow man, to forgive, in order that the Almighty will forgive us.
The composition of the special prayers, the inspiring poetry, and the moving melodies make all hearts turn away from their perverse ways and brings them to the righteous path. The Great Judge is most anxious to be merciful to us and forgive us of our short-comings when we truly repent. For God wants every person to live.
Maimonides teaches that true repentance requires:
to specify sin
to be remorseful
to resolve not to repeat that sin again.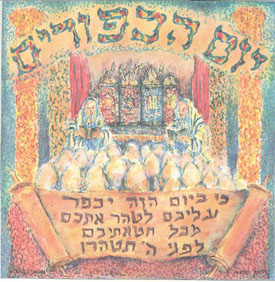 By Sam Catton
After twenty five hours of fasting, prayers, penitence and soul searching, we experience the moving recitation of "EL NORA ALILA", the God of Awe, an entreaty for pardon by the eleventh century Sephardic poet, Moses Ib'n Ezra.
We feel as angels before God as we proclaim seven times "The Lord is God" while bidding farewell to the Shechinah (the Holy Presence) as it ascends above the seven firmaments.
We stand in rapture before the Holy Ark spiritually reinvigorated for the year ahead, with our souls refined and purified.
We go home to break our fast confident that God has accepted our prayers and our Teshubah, and will inscribe us in the "Book of Life" for the year to come.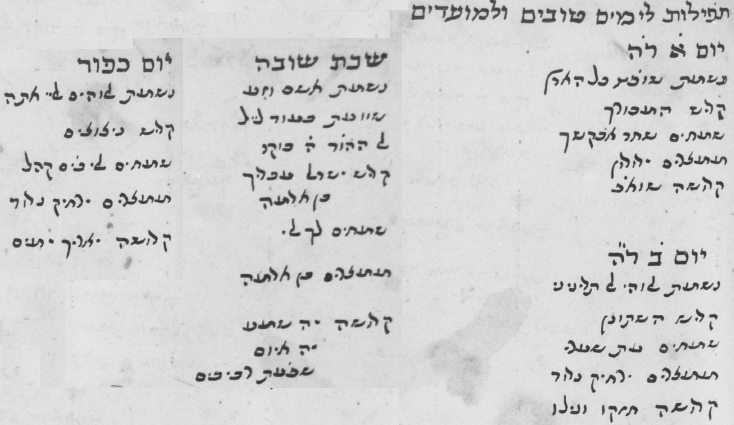 The melodies employed for the Aleppo prayer services on the Jewish High Holidays predate those applied throughout the year. Whereas during the year, melodies originate from various Pizmonim, Sabbath Baqashot, or even secular melodies, on the High Holidays, the standards are elevated, and the melodies, which are more solemn, come mostly from holy piyutim (liturgical poems) of the Golden Age of Spain as well as from portions of the Selihot. Authors of these piyutim include: Abraham Hazan of Girona, Yehuda Samuel Abbas, Solomon Ibn Gabriel, Yehuda Halevi, Abraham Ibn Ezra, Isaac Ibn Mar Shaul, Israel Najara, and Aharon Eliahou. Benayahu #131, which is a source from H Jacob Rahamim Mishaan of Aleppo, 1780, is the oldest source that lists the High Holiday melodies for the pieces of prayers. Another source with an identical list is Sassoon #647 from Aleppo, circa 1850. One more recent source that is relevant to us are the Hazzanut notes of H Moshe Ashear from 1936-1940. As a general rule, our community's tradition is to strive and emulate the notes of H Moshe Ashear (1877-1940), the Chief Cantor of Congregation Magen David, as much as possible. In addition to H Ashear's source, Hazzan Gabriel A Shrem composed his own list of suggested melodies for the High Holidays. This list can be found on page 569 of "Shir Ushbaha Hallel VeZimrah," the Red Pizmonim book.
HAZZANUT:
(1) NISHMAT: Ohilah La'El, Hashem Hu HaElohim of Mousa Ashear, or "El Leil Yetawil Alayah."
(2) SHAV'AT ANIYIM AND EL HAHODAOT: There is a special chant used for Shav'at Aniyim and El Hahodaot that is unique for the High Holidays. The melody does not originate from a pizmon.
(3) QADDISH: Rosh Hashana: "Hizqu Vegilu" (from Ahot Qetana), "HaMeborakh," or "Ya Shimkha Aromimkha." Yom Kippur: "Ben Adama."
(4) SEMEHIM: The melody for Semehim is always the flagship melody of the day. For the Shabbat prior to Rosh Hashana, "Ahot Qetana" is applied. On both days of Rosh Hashana, "Et Shaare Rasson" is applied. On Shabbat Shuba, "Lekha Eli" is applied. On Yom Kippur, "Elekhem Qehal 'Eda" (page 510) is applied.
(5) MIMISRAYIM: For Mimisrayim, an old melody in Maqam HIJAZ known as "Yarhiq Nedod" is always applied on Rosh Hashana and Yom Kippur. This piyyut is composed by H Israel Najara (1550-1625). On Shabbat Shuba, "Ya Shema Ebyonekha" is applied for Mimisrayim.
(6) NAQDISHAKH: Sheikh Salama Hijazi, Shoef Kemo 'Ebed, or Rabat Shab'a (page 478).
(7) KOHANIM: Some cantors apply a "Maqam of the Day" for "Kohanim" based on that day's Torah portion. For 1 Rosh Hashana, Maqam SABA (birth of Isaac). For 2 Rosh Hashana, BAYAT (Aqedat IsHaq). For Yom Kippur, HIJAZ (death of Bnai Aharon).
(8) PIZMON SEFER TORAH: 1 Rosh Hashana: Rina Ut'hila (page 257). 2 Rosh Hashana: Melekh Hamefoar (page 360). Shabbat Shuba: Shabti Shabti (page 151). Arbit Yom Kippur: Rabat Sab'a (page 478). Shaharit Yom Kippur: 'Ozreni El Hai (page 479). Minha Yom Kippur: Shokhen Ruma (page 451).
Pizmonim for Rosh Hashana according to Sassoon Manuscript #647, Aleppo, circa 1850.